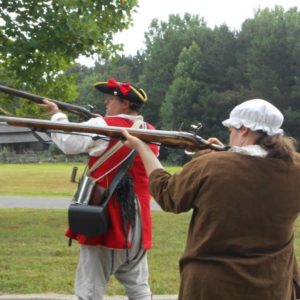 In the 'Garden of the Waxhaws', history has returned! The culture of the Scotch-Irish settlers, who courageously forged a new civilization in the Carolina backcountry, is now remembered in this lasting memorial with exhibits inside and outside on our grounds.
The Museum of the Waxhaws documents events that took place in this region from 1650 – 1900 with permanent and temporary exhibits for you to see.  Visit us and allow history to come to life before your eyes!  Tour a preserved Early American homestead and walk the paths where Native Americans once hunted for food.  See replicas of the dwellings built by the Waxhaw Indians.  Experience panning for gold and savorthe aroma of our herb garden.  Hear a story or maybe a song from days gone by.  Enjoy our region's history, brought to life at the Museum of the Waxhaws.
Field trips are ideal for children as young as six or seven years old through upper grades.  We can accomodate any group of children or adults of all ages at our indoor and outdoor exhibits.  Book your field trip for students or group visit today!  Your special requests and suggestions are welcome here. We are always improving our exhibits as they are maintained.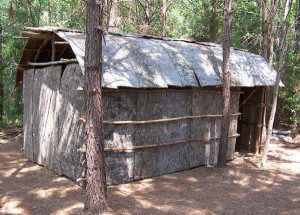 We are constantly building upon the presentations we make to showcase our exhibits. At the Museum of the Waxhaws, history is presented to you in a living, reenacted format, or through realistic exhibits featuring actual artifacts, architecture, and photographs.  When you arrive at the museum campus, you will enter the 'Garden of the Waxhaws' as it was called when the earliest European settlers started a new life for themselves. Come and experience life as it was for these brave settlers and the Native Americans who first dwelled on this land.
One of our new exhibits features a replica of a mule-driven arrastra, similar to the one shown in this illustration. The arrastra is located in our gold panning / gem mining outdoor area where demonstrations of gold panning and mining in Union County take place. Arrastras were used in the process of extracting gold from rocks and ore in the 1800's.   Local Eagle Scouts played an important role in the clearing of land and construction around this exhibit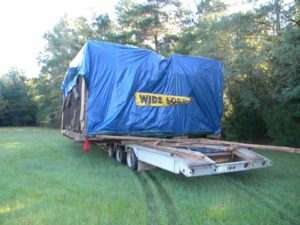 Our other startup project is located near the amphitheater on the museum campus.  The Roland Family of Union County donated a circa-1820's building to the museum which is believed to be the county's first U.S. Post Office.  This will be the first of several buildings we would like to place near our amphitheater to create a village exhibit.  We have successfully moved the first building of this exhibit to the site, and are working to raise funds to proceed with renovations on the post office structure, and plans to add more buildings to the overall exhibit.  We plan to relocated old buildings from around the county and/or erect historically accurate replicas of various types of buildings from the early to mid 1800's.