Many thanks to the Town of Waxhaw and Union County Community Arts Council for sponsoring and helping with our Black History celebration.
The Museum of the Waxhaws is Union County's cultural and history learning center. Managed by a nonprofit 501 C-3 Board of Directors, the Museum showcases and demonstrates history and culture to visitors in the context of indoor and outdoor exhibits, artistic performances, historical reenactments, and group tours.  The basis of our mission is to teach residents of Union County about our regional history. The story of our local history begins with the first people to roam these lands -the Waxhaw Indians.  European settlers, primarily Scots Irish, discovered a home place for themselves in a new world they called the 'Garden of the Waxhaws'.  Waxhaw still celebrates the culture of these early descendants who settled here, carving out homesteads and farms in a vast and rugged backcountry which became an Early American Trader's Path running from Petersburg, Virginia, to Augusta, Georgia.
In 1889 – Nearly two centuries after John Lederer, a German traveler, and scholar, discovered the Indian village of the Waxhaws – the Town of Waxhaw was chartered, making it the oldest town in Union County.  Early explorers such as Lederer called Waxhaw 'Wisacky'  – a region which became a fountain of lore and legend, the most famous being the controversy over Andrew Jackson's birthplace. Both North and South Carolina claim him as a native son. James Polk was also born just north of the settlement.
Waxhaw continues to be a popular place for Americans to settle and live.  As this area grows, the cultural offerings and historical stories of the Museum of the Waxhaws will expand to include history currently in the making, with our Native American and Scots Irish origins evolving into a more eclectic and diverse melting pot of North Carolinians.  Our mission is to provide an authentic and accurate depiction of local history and to continue building the story as history is made for generations to come!
The Town of Waxhaw will be hosting an Easter Egg Hunt at the Museum April 2, 2017. Egg Drop by [...]
In Honor of Black History Month… a special exhibit starting February 18th Black Female Music Legends of the 60's & [...]
Virtual Photo Tour for Mobile Devices
Tour the museum on-site or remotely, with English and Spanish audio.
The Museum of the Waxhaws and Andrew Jackson Memorial are administered by the Andrew Jackson Historical Foundation, Inc., a non-profit organization dedicated to maintaining a repository for the collection of artifacts and other resource materials that focus on the history of the Waxhaw region and Andrew Jackson.
Scouts Are So Important Here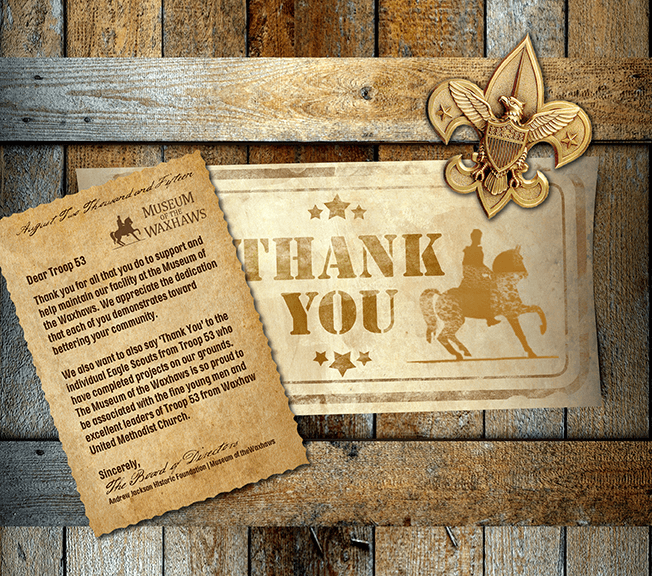 Our Sponsors are the Lifeline
2015/2016 Circle of Honor & Patron Level Sponsors
Sarah Belk Gambrell
Town Of Waxhaw
Union County
---
Arthur & Charlotte Mott
Union County Arts Council
Patricia Gamble McGee
Union Power Cooperative
Monroe Oil Co. / Fill Good
Chronotek / Brandon Fox
Our fiscal year begins the end of June. You can contribute at any time as an individual, family, or business. We are always seeking sponsors to help fund our Museum. Your contribution allows us to share local history and cultural experiences with people of all ages throughout our region.
We have the best volunteers at the Museum of the Waxhaws. We are always looking for talented and hardworking volunteers to help us with our ever-changing and growing programs.  The more input we get from volunteers joining our team, the better we are at presenting history to our visitors. Interested in joining us as a volunteer?  Give us a call today or contact us HERE!